Day two: Composition, Psychology, Storytelling and Workflow
A good portrait is as much (perhaps even more) about psychology than simply technique. We start the day by talking about composition and framing, and then we move on to covering various aspects of dealing with your subject. I will be sharing a wide range of techniques on how to quickly get people to relax in front of the camera. You will get to work with models, that are not all that easy to work with (at least in the beginning). We will spend some time on talking about how to build a story in portraits using light, shadows and posing. There will be a photo challenge for all the attendees, as well as a demonstration of a full workflow for culling and editing images.
Agenda day 2 (sunday):
| | |
| --- | --- |
| 09:00 – 09:15 | Introduction to day 2 |
| 09:15 – 10:00 | Composition and Framing |
| 10:00 – 11:30 | Shooting session 5 + 6 |
| 11:30 – 11:45 | Short break |
| 11:45 – 12:45 | The personal nature of Portrait Photography |
| 12:45 – 13:30 | Lunch |
| 13:30 – 15:oo | How to make your subject relax + Shooting session 7 |
| 15:oo – 15:30 | How to build a story in a portrait |
| 15:30 – 16:00 | Afternoon coffee |
| 16:00 – 16:30 | Photo challenge |
| 16:30 – 17:00 | Demonstration of full workflow for culling and editing portraits |
| 17:00 – 17:45 | Review and blind critique of select images shot by workshop participants during day 2 |
| 17:45 – 18:00 | Round-up and final Q&A for day 2 |
Throughout day 2, we will again be working with a male and a female model in several different setups in the studio. I will divide the participants into two new groups, and like the day before, each group of five will be working with a model and a setup at a time.
On day 2, you will be confronted with models that are not all that easy to work with in the beginning, and you will learn how to handle these situations with grace, poise and humour. Rest assured; As the day progresses the models will be more and more amicable and willing to follow your instructions.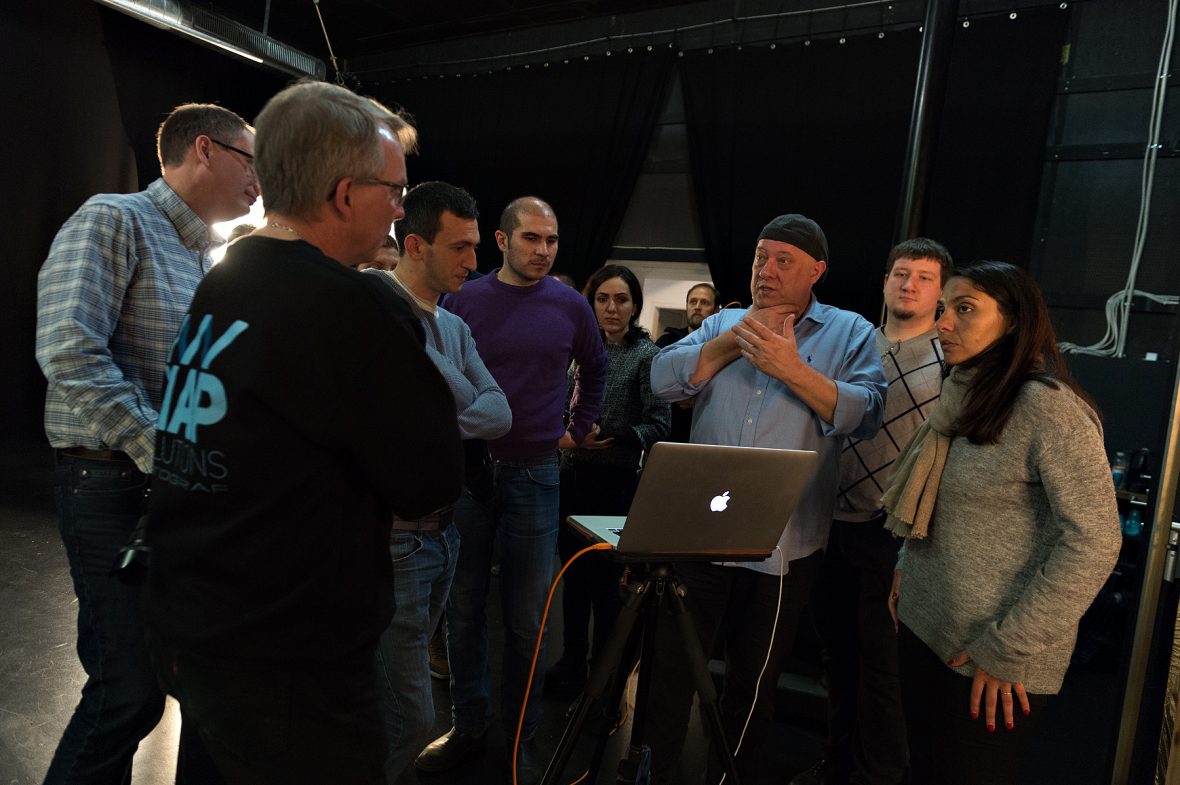 You will learn how to use lighting ratios and how to apply these to not only create dimensionality in your portraits (make them "pop"), but also how you can use light and shadows to build character and story in your portraits.
The entire day will be focusing on providing you with a set of practical skills, that will help you create unique and interesting portraits, and to help you not only create portraits that you want, but also photographs that a prospective client will love sharing, and be happy to pay you for making.
Day two will be concluded with demonstrating a complete workflow, including selection and editing of a couple of portraits. Finally I will be offering critique of a couple of the portraits the participants will have photographed during the course of the weekend.
There will be plenty of time for questions and answers during the course of the day.
Continue reading the practical information, go back to the Introduction, or jump directly to Sign up!