So – this is what all the hoopla is about. Most likely the last opportunity that those of us around or beyond the age of 50 will have to see a total solar eclipse in our lifetime (or at least the part of our lifetime, when we are still reasonably mobile, agile and have enough energy to plan for such a trip).
We would LOVE to witness a total eclipse of the sun, and we would love to share that experience with you!
Where will we go to experience the total eclipse?

The eclipse will be passing all across the US, starting west of Salem Oregon, passing just north of Kansas City Missouri, north of Nashville Tennessee and leaving US just east of Charleston in South Carolina. But – to even see the eclipse you have to be in a place where no clouds will block the view, and as Storm P is quoted to have said: "It's hard to make predictions, especially when it comes to the future". I ended up picking Oregon – more specifically the town of Madras as our 'base of operation', a small town merely 10 minutes drive, from the place most likely to offer a clear sky on the day of the eclipse. If you don't care a hoot about why I picked the specific location for observing the eclipse, go right ahead and skip all the details (although it is quite informative), and jump right to bottom line by clicking here.
Finding the right spot to experience the eclipse is depending on a LOT of factors, and just to give you an idea of the process behind picking the best spot (without being 100 % certain of clear weather), the various factors that weigh in includes:
Cloud reports based on cloud measurement data from the last 20 years
Topographical data
Precipitation data based on satellite data
Statistical analyses of cloud cover statistics for the totality zone
Accessibility (infrastructure such as airport, hotels and roads)
Ability to plan for a secondary option/site in case of clouds (<5 hours from primary site)
Duration of the period of totality
To share a bit with you, on what has been included in making this survey, take a look at these charts showing satellite based measurements of cloud cover for the past 20 years, in the morning and afternoon. It is clear that the states of Oregon and Idaho offers the greatest statistical chance of clear skies for the day of the total solar eclipse.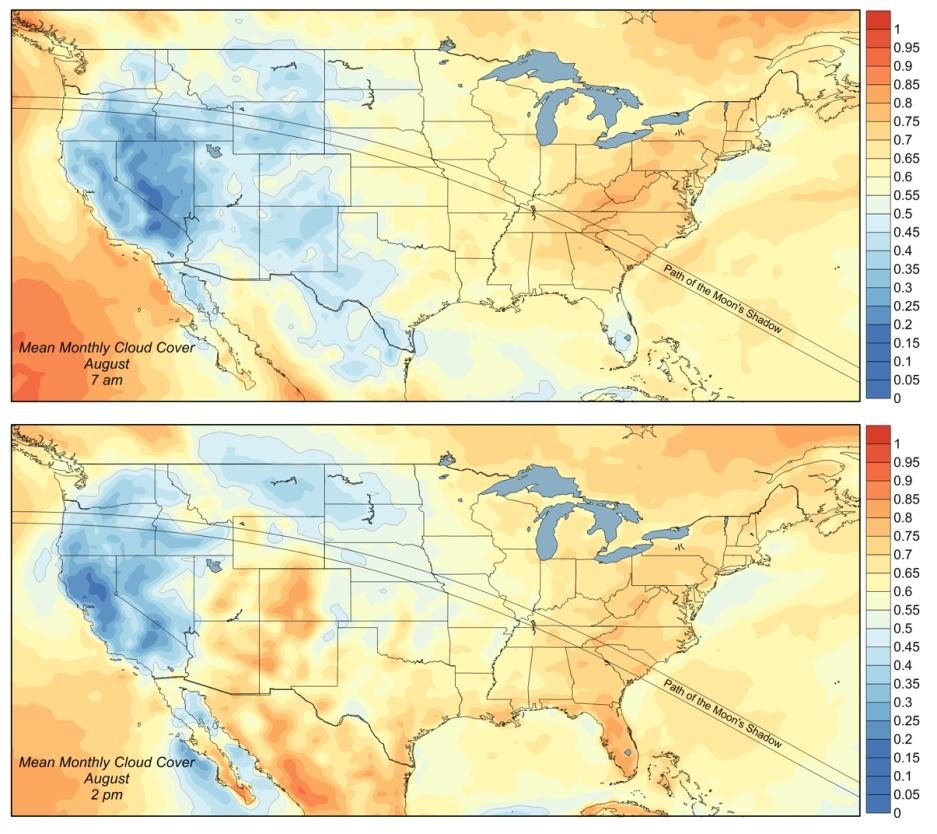 Taking all the data for average cloud coverage across the entire entre line of the eclipse gives us the following graph: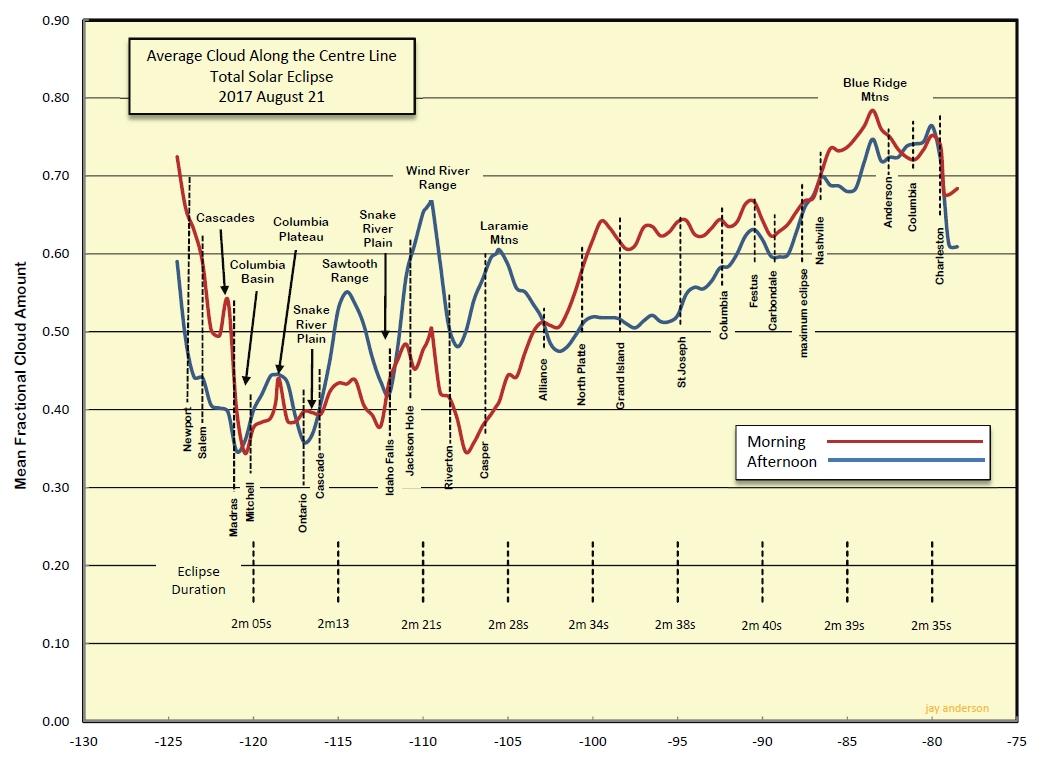 From the above you can read the satellite based measurements of cloud-cover for the past 20 years, both in the morning and afternoon, plottet over the longitude of the totality-zone. The duration of the totality is also indicated. Measurements of this type generally over-estimate the typical cloud-couver by 10-20%, which is why this graph only serves to compare the different observation areas against each others.
However – it is clear that the best areas for observing is at the Columbia Bassin or the Snake River Plain, thus we've found our primary and secondary observation sites. But there are other considerations that speak to picking our primary location:
The Columbia Bassin is nested behind the 3000 meters high Cascade Mountains. Wind across the Cascades is usually coming from west, which will normally mean that clouds gather on the western side of the Cascades, and this is in concurrence with satellite data as well as local measurements.
We have several options in case every statistical prediction fails. We can either travel west across the Cascades (unlikely) or we can drive east to the Snake River Plains. It's a 5 hour drive, and we would have to get up early in the morning, but that determination will be made the evening before, giving everyone a chance to go to bed early. It is unlikely that we will need to go to our secondary site, but it never hurts to have a plan B and a plan C.
Both the primary and secondary sites have good road access, and we do not risk getting stuck in traffic on a road somewhere. The primary site is only a seven minute drive from our hotel, so we can even walk there, if everything else fails, or experience it from the hotel (although the totality here will be slightly shorter, due to not being exactly on the center line of the eclipse.
Can I guarantee clear skies?
Even with a statistically based forecast of 80% chance of clear skies in this specific area of the US… No – unfortunately not. Despite all the planning and studying of weather data and charts, talking to experienced eclipse-hunters, members of The Astronomical Society, NASA's website on the Eclipse and many… M A N Y… other sources, I cannot guarantee clear skies. Nobody can! But we can take all of the information and experience of others and come up with our best statistical- and geological estimate on where we can actually observe the eclipse.
My good friend (physicist and active amateur astronomer Mikael Svalggard), who helped gathering and compiling all this data, has been planning eclipse trips more than 10 times, and he has never had a real miss. He himself is guiding a trip for 50 eclipse-hunters, and he has also picked these exact spots to see the eclipse.
We have an estimated 80% chance of clear skies on the day of the eclipse, and it simply does not get any better than that. If we allow ourselves some travel-options (like we do), our chances for clear skies goes up even further.
Where do we stay?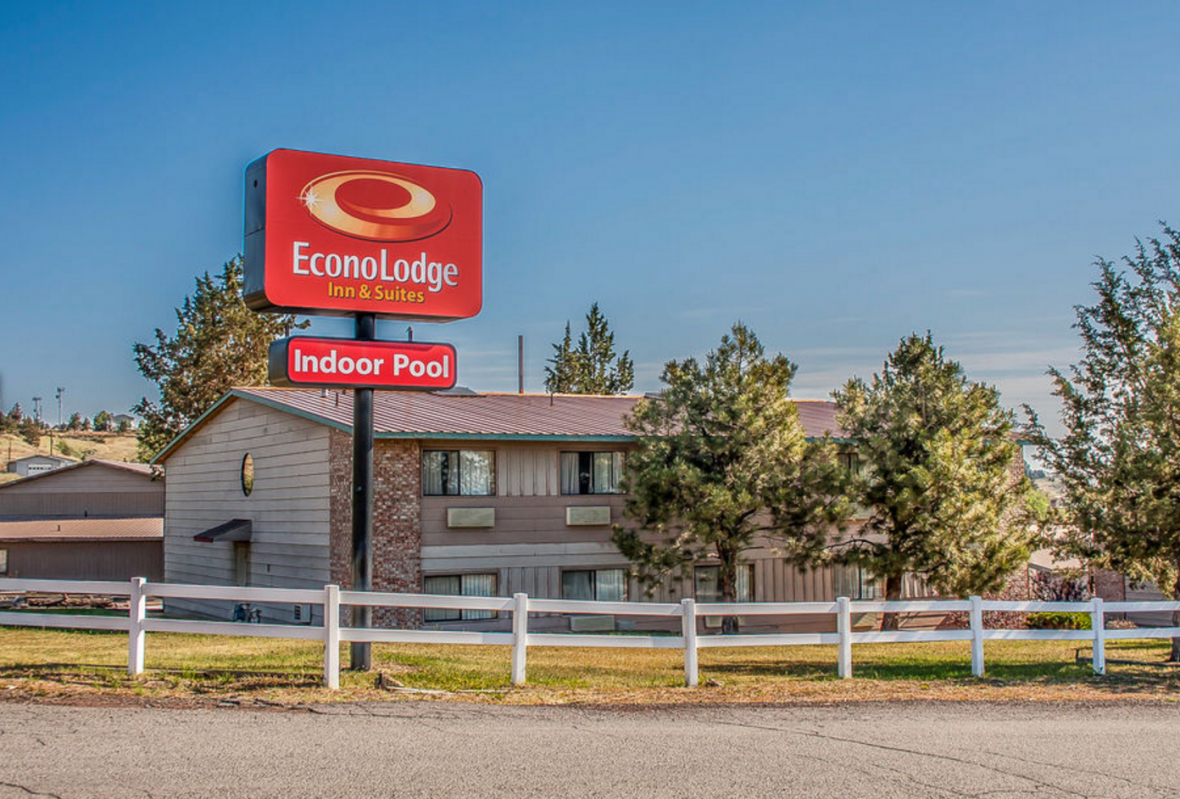 For our stay in Madras, Oregon, Anette and I have booked room at the Econo Lodge Inn & Suites Madras Chateau Inn (click the link to see this hotel on hotels.com) In case this hotel is fully booked, there are other options in the town of Madras (click the link to see other hotels in the area).
We will be arriving the 20th of August around noon. The day of the eclipse is the 21st of August, and we will stay for one more night at this hotel before leaving Madras again.
Lisa, Maria, Sara and Victor will be staying there as well, Lotte and Miguel will also be joining us from Florida and our dear friends and family (the Polevoy's) will be travelling down from Canada. In other words: We will be a few people gathering, but there is plenty of room for others to join in as well. After all… millions of people will be travelling to see the eclipse, and no matter where you go, to see it, you will most likely be around a ton of other people, so why not go see it with someone you know?
How to get there?
Getting to Madras is not all that difficult. Easiest is by plane to Portland, and then renting a car from there. It's approx. a three hour drive from Portland to Madras. If you have room in your car, please let me know, as there may be others flying in the same day, that may be interested in sharing the cost, and I will do my best to coordinate this.
If you want to know specifically where we will most likely be seeing the eclipse, the exact spots are here:
The primary site:
The secondary site:
In case we need to drive to the secondary spot, here's the route we will follow: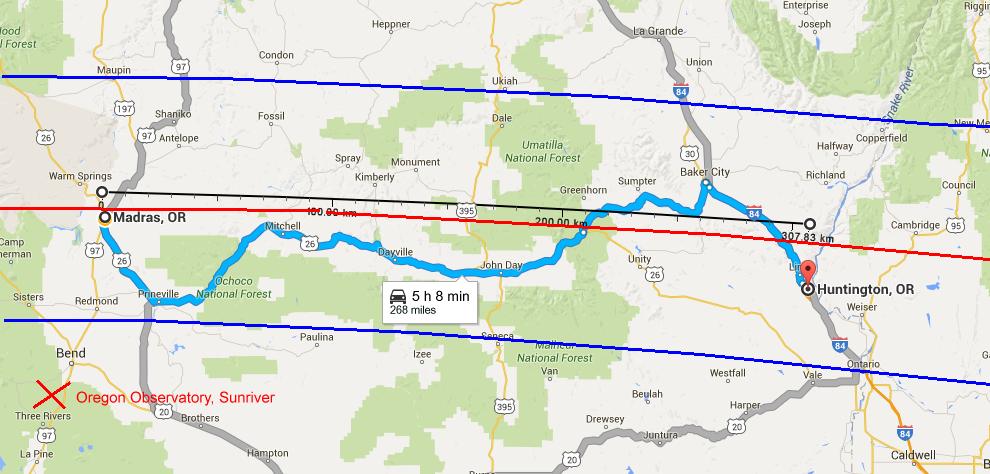 Do I need to bring anything to protect my eyes?
No – you dont need to worry about that. We will be bringing solar eclipse protective eyewear for everyone (just make sure you let us know in advance that you are coming and we will be sure to bring you a pair)
Be reminded though: Never EVER look directly at the sun. Do NOT look through your camera. Do NOT use a pair of binoculars either. You should not be using home made protective items either (like undeveloped film or similar items). Use ONLY specially manufactured protective eyewear, and if you use anything with magnification, make SURE you are using properly attached and certified solar viewing film.
I will not be bringing a telescope, and I will only be photographing a little bit during the event (mostly automated stuff that I set up prior to the eclipse). As this is most likely my only chance of seeing a total eclipse of the sun, I don't want to spend time messing around with a telescope or camera equipment. I want to spend the time taking in the experience, and I suggest you do the same.
After the eclipse, it's customary to celebrate the event with a glass of champaign. We will bring champaign as well as plastic glasses to use.
OK – you sold me, where do I sign up?
Theres is no need to sign up anywhere. Simply book your hotel, airplane-tickets and book a rental car. Then send me an email (henrik@delfer.dk), letting me know that you intend to attend the event, so we can make sure to bring enough champaign and eclipse viewing protective glasses for everyone.
In July I will be sending out an email to everyone, with updates, additional information, phone numbers and all the minute details to ensure we all find each other once we get there.
We are truly looking forward to seeing as many of you there as possible!
With best regards and lots of love
Anette and Henrik